Reading Time:
7
minutes
There is no greater high for an Indian cricket fan than to see Pakistan humbled in the cricket field. And the euphoria of having done it seven out of seven times in the Cricket World Cup is akin to gaining cricketing paradise.
The hangover of India's latest 'surgical strike' against their arch enemies at Old Trafford on Sunday is still to go away. India pummeled Pakistan to score an emphatic 89-run victory in a rain-interrupted encounter, which is likely to remain the most-watched game of the six-week tournament.
Here's a recap of how the two Asian giants have fared against each other in the World Cup encounters so far:
1975, 1979, 1983 & 1987. During all these Cricket World Cups, India and Pakistan somehow did not face each other. It took the 5th World Cup in 1992 for India and Pakistan to face off for the 1st time. Retrospectively , it may not have been a bad thing for India since the 1980's had seen Team Pakistan often defeat Team India, sometimes from very dismal match situations.
Benson and Hedges World Cup 1992, Sydney
India batted 1st. Young Ajay Jadeja opened with veteran Krish Sreekanth who was uncharacteristically subdued with 5 in 39 balls. Jadeja scored 46 and Azhar 32 but regular fall of wickets saw India at 148-5. Sachin Tendulkar with 54* in 62 balls and Kapil Dev's aggressive 35 in 26 balls took India to 216/7 in 49 overs. Kapil and Prabhakar struck to reduce Pakistan to 17/2 before Aamer Sohail (62) and Javed Miandad (40) took them to 105 before Sachin Tendulkar removed Aamer. Thereafter wickets kept on falling at regular intervals and Pakistan was shot out for 173. Miandad's jumping up and down in anger at Kiran More's appealing will remain a funny memory. Tendulkar was the man of the match. India had a poor world cup though while Pakistan went on to win the World Cup. 1-0 India.
Wills World Cup, 1996 , Bangalore
Navjot Singh Siddhu and Sachin opened for India and had an opening partnership of 90 before Sachin was out for 31. Siddhu was in good form and scored 91 but no other Indian batsman could get going. Ajay Jadeja's late flourish and clean hitting against Waqar Younis saw him get 45 in 25 balls and take India to 287. The target of 288, normally competitive seemed puny the way Aamer Sohail and Saeed Anwar started. One moment of madness swung the match India's way. Aamer smashed Venkatesh Prasad to the fence and pointed his bat at where he had hit him. The very next ball, Venkatesh clean bowled him which was a moment of joy for Indians and one which for many is a top moment in Indo-Pak rivalry. Thereafter wickets kept falling at regular intervals and Pakistan were never in the hunt, ultimately falling short by 39 runs. Siddhu was man of the match for his 91. 2-0 India.
ICC World Cup, 1999, Manchester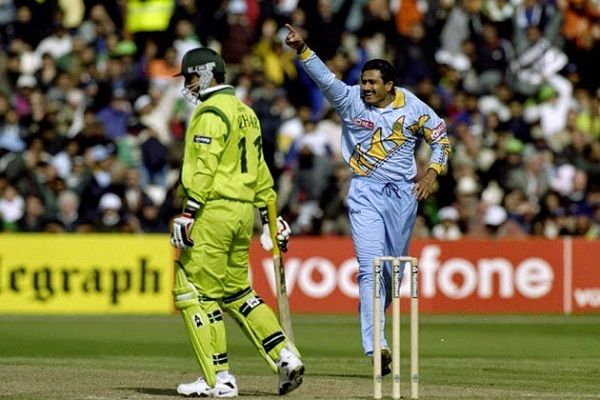 The win was a must for Indians as India was battling Pakistan at Kargil and nothinh except a win would have sufficed at Manchester. India batted forst and the Indian Openers Tendulkar and Ramesh were gone by the 20th over and India was 91/2. Rahul Dravid top scored with 61 and Azhar's 59 took India to 227/6 in 50 overs. It did not seem a stiff target considering Pakistan's strong batting line up. However Srinath and Venkatesh Prasad struck repeatedly to send 5 Pakistan batsmen back for just 78. Debashish Mohanty put in a disciplined bowling performance as well and Kumble chipped in with 2 wickets. The stars were however Srinath with3-37 and Venkatesh with 5-27 as India shot Pakistan out for just 180. Venkatesh Prasad for his brilliant bowling was Man of the Match. 3-0 India
ICC World Cup, 2003, Centurian, 2003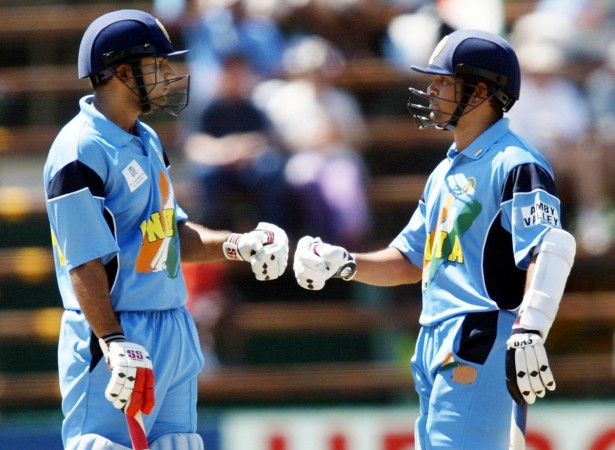 Saeed Anwar's 101 was instrumental in taking Pakistan to 273, an imposing total considering the pressure cooker situation. India had Sachin and Sehwag though. The little master had a big bowl of ice cream in the lunch interval which in his own words would not have been allowed in today's cricket. He then set about destroying Pakistan bowling. A memorable moment was an upper cut for 6 off Shoaib Akhtar. When Razzaq dropped Sachin off Wasim Akram, the bowling legend screamed 'Tu jaanta hai tu ne kis ka catch chodda hai'? (Do you know whose catch you have dropped). Sachin scored a super 98. Pakistan briefly came back when Sehwag (21 in 14) and Dada were removed in consecutive balls by Waqar, However Mohd Kaif's composed 35 helped restore calmness. After Sachin was out, Dravid with 44* and Yuvraj with 50* took India to a comfortable win with 26 balls to spare. Sachin for his 98 in 75 balls was the man of the match. 4-0 India
ICC World Cup 2011, Mohali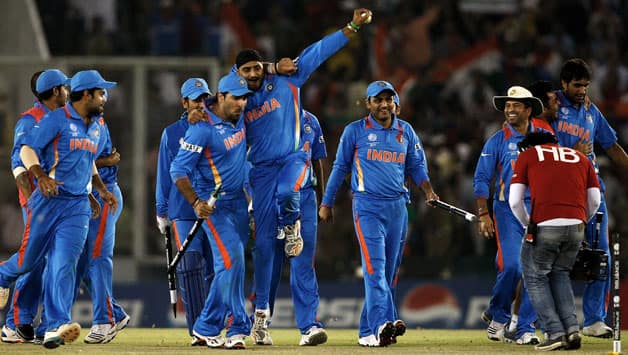 The two rivals met at the semi-finals. Sachin and Sehwag opened for India and Gambhir came one-drop. Somehow no Indian batsman could get going. India reached 260 with Sachin top-scoring with 85, which was aided by butter-fingered Pakistan fielders dropping him 4 times. Suresh Raina scored a crucial 36 not out at the end. After Kamran Akmal was out, Mohd Hafeez and Asad Shaikh steadied the ship and in 15 overs Pakistan were looking competitive at 70-1. However the disciplined Indian bowling attack kept on chipping in with wickets and Pakistan never looked to be in the race for a win. Misbah scored 56 and all the 5 Indian bowlers took 2 wickets each. Sachin was once again Man of the match, his 3rd such award in Indo-Pak World Cup Cricket. 5-0 India.
ICC World Cup 2015, Adelaide
India had brand new openers. Sachin was not there for the 1st time since 1992. Sehwag was not there as well, and our openers were Shikhar Dhawan and Rohit Sharma. At 1 drop was Virat. Shikhar (73) and Virat (107) batted superbly and so did Suresh Raina for a 56 ball 74 as India piled up 300, the 1st time ever that 300 was breached in Indo-Pak world cup matches. Sohail Khan took a fiver for Pakistan . Once again the contest was over by the 25th over with Pakistan reduced to 106/5. Misbah (76) as in 2011 top scored in a losing cause. Mohd Shami with 4-35 was the pick of the Indian bowlers and was well supported by Umesh Yadav and Mohit Sharma.
Virat for his 109 was Man of the match. 6-0 India.
ICC World Cup 2019, Manchester
India had a blow before the match with in form opener Shikhar ruled out due to a thumb fracture. However stand in opener KL Rahul stood up to the occasion and scored 57. The star however was opener and vice-captain Rohit Sharma who hit a belligerent 140 in 113 balls. Skipper Virat also scored a brisk 77 in 65. India had touched 300 for the 1st time in 2015, and this time India piled up 336. Pakistan started cautiously and at 1 stage were 117/1 in 24 overs. They seemed set to launch an assault but Kuldeep Yadav with 2 wickets pegged them back and Hardik took 2 wickets as well. When rain stopped play Pakistan were virtually out of the game and when play resumed the result of the match was just a formality. The revised target was 302 in 40 overs and India won comfortably by 90 runs. For Pakistan Fakhar scored 62 and Babar 48.
Rohit won the man of the match award for his 140. 7-0 India.
This is the summary of India's 7 wins against Pakistan. While for emotional reasons and because the two rivals do not play each other in bilateral contests the rare matches in multilateral tournaments are given huge mileage. However the fact is that at the instant moment India is far ahead of Pakistan as regards cricketing prowess and unless Pakistan does something drastic, the gulf is likely to widen.
Congrats Virat Kohli and the Indian team. All the best for the rest of the World Cup .
Pics Credit; Indian Express, Youtube, Scroll.in, Times of India, Cricket country, India.com, Hindustan Times.
Comments
comments