Won't Quit Congress: Koraput MLA Krushna Sagaria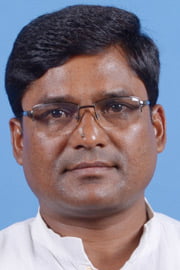 Reading Time:
2
minutes
Koraput: Putting all speculation to rest, Koraput Congress MLA Krushna Chandra Sagaria on Monday said that he would continue in Congress and contest as a party candidate in the forthcoming assembly elections.
"I have no intention of quitting the Congress. Rather, I will contest the ensuing assembly elections," Sagaria informed at a press briefing here in the afternoon.
The Koraput MLA, however, announced his resignation from the post of general secretary of the Odisha Pradesh Congress Committee (OPCC).
"I have been removed as the chairperson of the OPCC Scheduled Caste Cell by some party leaders who have conspired against me. The State Congress instead of moving in the right direction is acting against the Scheduled Caste and Scheduled Tribe communities. If I am incapable of holding the post as chairperson of PCC SC cell, how can I be eligible for the PCC general secretary post? This is the reason for which I have tendered my resignation as the OPCC general secretary," Sagaria pointed out.
Taking a dig at the OPCC president Niranjan Patnaik, he said: "I want to ask him whether he wants to strengthen the party organisation or he is trying to consolidate his personal organisation."
Talking to the media, OPCC working president Pradip Majhi said the PCC will try its best to sort out the issue.
Notably, Sagaria, who was the chairperson of the OPCC Scheduled Caste Cell, was appointed OPCC general secretary by the Congress president Rahul Gandhi on September 29.
Sources said since Sagaria had aspired for the post of AICC SC Cell chairperso, he was dissatisfied with his new assignment.
Speculation was rife that Sagaria might join the BJD as he was being sidelined in the party by his arch-rival and Jeypore Congress MLA Tara Prasad Bahinipati with the tacit support from OPCC president Niranjan Patnaik.
Comments
comments