80% New Infections, 84% Of Deaths In One Week From Odisha & 4 Other States
Micro-Containment & Not Lockdown Has Helped Bring Down COVID Infection: PM Modi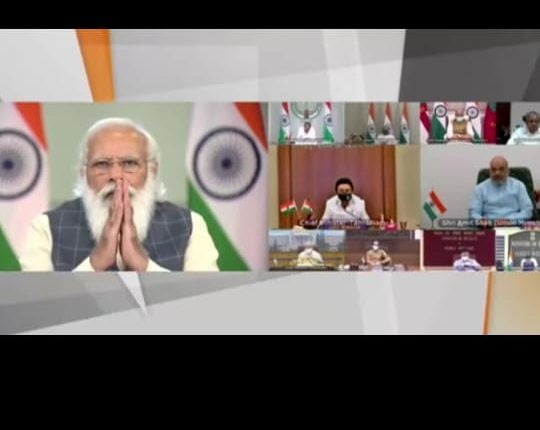 New Delhi: Prime Minister Narendra Modi on Friday said that 80 per cent of new COVID infections have been detected in five states – Odisha, Tamil Nadu, Andhra Pradesh, Karnataka, Maharashtra, Kerala, which have also contributed to 84 per cent of the total deaths in the country in the last one week.
While interacting with the chief ministers of these states on the COVID situation, PM Modi said that the country is at the juncture where the danger of the third wave is looming large. "We had expected to the tide over the second wave as the COVID graph witnessed a downtrend, but rising infection rate in some states soon became a cause of concern," he said.
The PM said that a similar trend was seen before the second wave in January and February. "Therefore, things might go out of control if states that are reporting a high infection rate do not take proactive steps to stop the third wave from becoming a reality," he said.
According to experts, the possibility of mutation in COVID increases if there is a continuing rise in cases, he said.
The PM said micro-containment zones has helped states bring down the infection rate even without imposing lockdown and this along with the four-fold strategy – test, track, treat and vaccination – should be employed by these states. "Focus should be on districts and areas with a high positivity rate. There is a need to increase RT-PCR testing and improve health facilities. Adequate testing is extremely essential in terms of checking the virus and early identification of cases," he said. 
The Centre had earlier warned states about crowding in markets following the unlock process. "Massive crowds thronging the marketplaces violating norms of social distancing has led to an increase in 'R' factor (Reproduction number) in some of the states. Any increase in 'R' factor above 1.0 is an indicator of the spread of COVID," it had said.
Modi said that the Centre has released 23,000 crore for emergency COVID response and the states need to utilise the funds to fill the gaps in health infrastructure. "The network of  IT systems, control rooms and call centres should be strengthened to allow people access the available resources. We have to ensure that patients and their families do not have to run from one hospital to the other for treatment," he said.
He said that 53 of the 332 allocated PSA oxygen plants have so far been commissioned. "I urge the states to commission all the plants in a 15-20 day mission mode by engaging a senior official," he said.
The country should ready the infrastructure to protect the children from COVID, he added.