Actors Like Atal Bihari Panda Are Not Born Every Day: Odisha Filmmaker Sabyasachi Mohapatra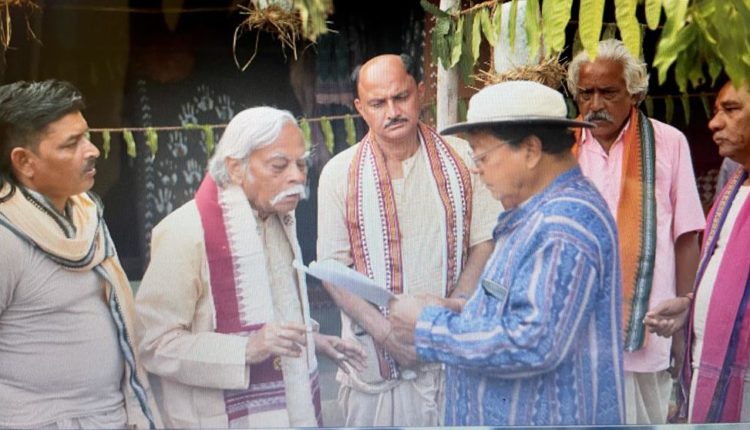 Bhubaneswar: The face looks familiar, he told himself as the 82-year-old with an effervescent personality took the stage during a literary meet in Odisha's Sonepur in 2011 and had the audience in splits.
He could finally recollect that the old man had a similar impact on him 30 years ago. "I had watched a play 'Phata Mandal' in Sambalpur in which he had played the lead role. I could not but go ga-ga over his performance. He was very impressive," said national award-winning filmmaker from Odisha Sabyasachi Mohapatra.
Here we are talking about his protagonist of 'Sala Budha' (Sala Budha, Aadim Bichar and Sala Budhar Badla) trilogy Atal Bihari Panda. He played the titular role in these Sambalpuri language films directed by him.
Mohapatra was then the secretary of Natya Kala Parishad. "I asked him whether he continued acting and very enthusiastically he said, 'Powder Makhba Kahi Chhadba' (why should one stop putting on the greasepaint?" he said.
Panda gave him two books – a novel 'Devi' and his biography 'Baandhu Ubacha'. "It gave me an insight into his command over the language. I approached him to write dialogues for my movie," he told Odisha Bytes.
Mohapatra was then staying in Mumbai and had come down to Sonepur with the idea of 'Sala Budha' in his mind. "I took him to a guesthouse in Sonepur. He looked at me and said that his hands were shaking. But within no time, he was on the job," he recalled.
The script with dialogues was ready and they had even recorded the songs. "I would change the topic every time he enquired about the actor, who would play the lead role in the film. Three days before the shoot, I told him that I would like him to play the titular role," he said.
It caught him off guard. "After initial reluctance, he gave in to my request. Film shooting is completely different from theatre and he was conscious of the cameras at first. But that lasted just for a day. Having been involved in the scripting, he understood the character well," said the filmmaker.
During the shoot, Panda showed no hesitation in walking on burning sand on a hot afternoon and taking a bath on a shivering cold morning. "Such was his dedication to the craft. He was emotionally involved in the process of filmmaking," he said.
Mohapatra said people had initially criticised him for taking an 83-year-old as the lead character in his movie with even some commenting that he had lost his mind. "The state award for the best actor which he got soon after the film was released in 2012 silenced all the critics," he said.
This association continued in the sequel to the movie – 'Aadim Bichar' (2014) and 'Sala Budhar Badla' (2020). "He won the best actor and best dialogue writer for 'Aadim Bichar' and I was hopeful of a hattrick for him with 'Sala Budhar Badla' but the state awards were delayed due to the COVID-19 pandemic," he said.
Elaborating on the relationship he shared with him, Mohapatra said he understood what he wanted from him as an actor even before he spoke. "We shared a great rapport. We always engaged in discussions and one such at Rameshwar ghat went up till 3 pm when the priest of the temple reminded us that it was not safe to stay here so late into the night with a graveyard nearby," he said.
Talking about Panda's biography, the filmmaker said not many know about his stint with Annapurna Theatre in Cuttack. While working in the irrigation department in Cuttack, Panda had staged a play at the Annapurna Theatre. "After watching the play, the then Chief Minister Harekrushna Mahatab sent for him and asked him to write opera that would send out a message to the masses. He had then written six to seven plays and two among them were 'Bagha Matichi' and 'Samaja Byadhigrastha'," he said.
The plays went houseful for months together. He was even conferred with the Odisha Jatra Samrat title later.
While in the first edition of the biography, he wrote about his theatre and plays, the second, which included his experience in films, was released a month ago.
For Mohapatra, his death is an end of an era and a personal loss. "Such actors are not born every day. He was a complete artist," he said.
The 'Sala Budha' trilogy could never have been so heartwarming had it not been him!