Advanced Rehabilitation Centre In Odisha's Keonjhar To Benefit 8,000 Persons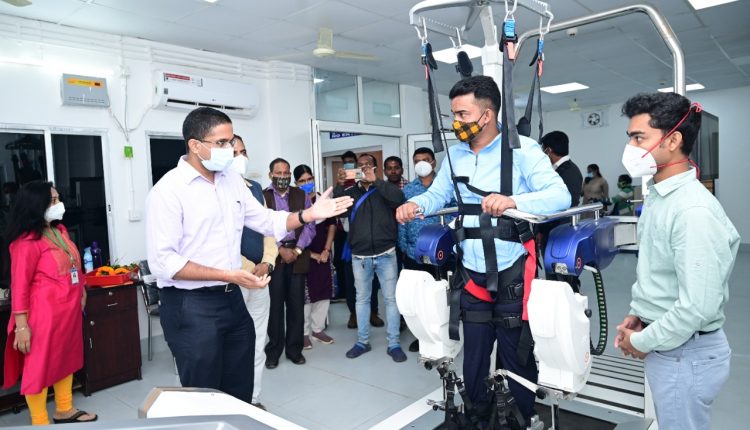 Koenjhar: An Advanced Rehabilitation Centre has been set up at Ranki in Keonjhar district. The centre has been set up as per Odisha under District Mineral Foundation guidelines which mandates for welfare of aged and disabled persons.
Set up on the lines of ARC set-up by Social Security and Empowerment of Persons with Disabilities Department (SSEPD), in Capital Hospital-Bhubaneswar, it was inaugurated by Chief Minister Naveen Patnaik on November 18.
Set up at a cost of Rs 13 crore, around Rs 17.8 crore will be utilised for operation of ARC for the next 5 years through funds available under DMF, Keonjhar, stated a release.
As per the available census figures, 19,135 PWDs, including 12,388 pwDs (who receive pension) and 1,318 CWDs have been identified in Keonjhar.
Around 8,000 beneficiaries from Keonjhar and other neighbouring districts suffering from musculoskeletal and neuromotor disability will benefit from the ARC.
The ARC is equipped with world-class cutting-edge technology equipment like the fully motorised and ergonomically designed 3D robotic arm for upper limb therapy; robot assisted rehabilitation gait training exerciser for lower limb therapy and CAD/CAM machine for designing and manufacturing artificial limbs.
The ARC also provides an electric and motorised wheelchair which has an ergonomically designed control system to assist and enhance the mobility of the selected patients.
The ARC is manned by a multi-disciplinary team of healthcare professionals like medicine specialists, physiotherapists/Occupational therapists, orthotics and prosthetic technicians under the management of a centre in-charge.
A district-level event was organised on 'World Disability Day' on Friday at ARC Ranki where motorized electric wheelchairs, artificial limbs and prosthesis were distributed by Collector and Managing Trustee, DMF Keonjhar in the presence of PD-DRDA-cum-CEO DMF Keonjhar.
Among others, Chief District Medical and Public Health, Keonjhar, District Social Security Officer (DSSO), Keonjhar and other district
officials were present.
The district administration aims to provide the best-in-class services for rehabilitation of Pwds, CwDs, vulnerable patients and elderly through the ARC initiative.