Another Deep Depression In Bay To Reach Odisha Coast By Next Weekend; Know Rain Forecast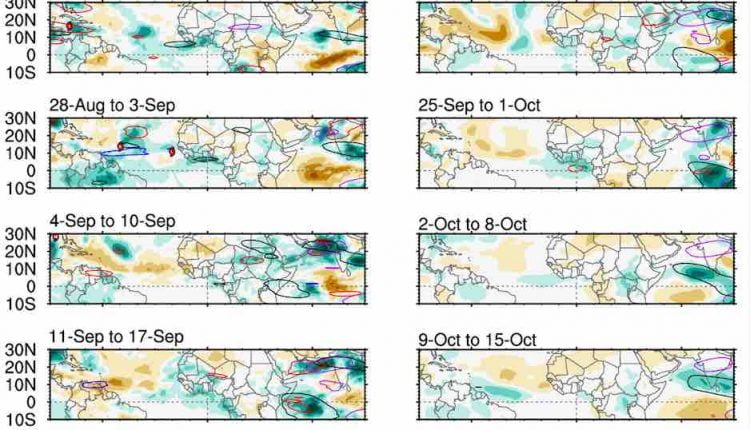 Bhubaneswar: The low-pressure system, which is likely to form over the north Bay of Bengal (BoB) late next week, may possibly develop into a depression or deep depression before reaching North Andhra Pradesh or Odisha coast on September 26 or 27, informed senior meteorologist Jason Nicholls.
He tweeted that conditions are conducive for the formation of low pressure late next week or next weekend.
IMD's Warning
The India Meteorological Department had earlier forecast more rain for Odisha with the formation of two cyclonic circulations over the BoB in the next two weeks.
"A cyclonic circulation has formed over eastcentral BoB and adjoining Myanmar coast. It is likely to move towards northwest BoB off Odisha -West Bengal coasts during the first half of the week (September 17 to 23) with subsequent west-northwestward movement across east and central India. There is also a likelihood of development of another cyclonic circulation over eastcentral BoB on September 24 with a near similar pattern of movement as the first one," the Met office said.
"Probability of cyclogenesis (cyclone formation) is nil over the region till September 29," it added.
This September 18 system will not be as severe as the previous one (September 10) as it will not concentrate into a depression and instead pass through north Odisha via Sundargarh as low pressure and move towards Chhattisgarh, MD Director-General Dr Mrutyunjay Mohapatra had told the media.
Multiple Cyclonic Circulations
"Numerical models indicate that a series of low-pressure areas – all remnants of South China Sea systems – were likely to form over the bay in the next few days," Director of SOA's Centre for Environment and Climate Dr Sarat Chandra Sahu had indicated.
The cyclonic circulation, which currently lies over north-west Bay, could cause moderate to heavy rainfall from Sunday till September 23. "One more cyclonic circulation may surface on September 24 followed by the formation of low-pressure area on September 25 and depression on September 26 over the north-west Bay," he added.
Rain Forecast
FIRST CYCLONIC CIRCULATION: Most parts of Odisha, including Bhadrak, Kendrapada, Puri, Jagatsinghpur, Khurda, Cuttack, Keonjhar, Mayurbhanj, Jajpur, Sundargarh, Sonepur, Boudh, Deogarh, Sambalpur, Bargarh, Balangir, Kandhamal, Dhenkanal and Angul, are likely to receive heavy rainfall between September 20 and 22.
SECOND CYCLONIC CIRCULATION: It could cause heavy precipitation on September 26 and 27 over coastal and adjoining districts. This system may cross the North Odisha coast over Bhadrak district.
September 10 Deep Depression
Odisha witnessed a flood-like situation as heavy rain lashed the state due to a deep depression over the Northwest Bay of Bengal and adjoining Odisha coast, starting September 10.
Puri received 342.5 mm rainfall between 8.30 am on September 12 and 8.30 am on September 13, the highest-ever during this month in 87 years. Bhubaneswar also recorded the wettest September in 63 years with 199.9 mm of rainfall during this period. Several low-lying areas in Odisha, including Puri, Bhubaneswar and Cuttack, were waterlogged.
Also Read: Bhubaneswar's Wettest September In 63 years; All-Time Highest Rainfall Recorded In Puri