Bhubaneswar's Priyanka Swain Wins Lockdown Recipes Cookery Contest, To Get Diamond Locket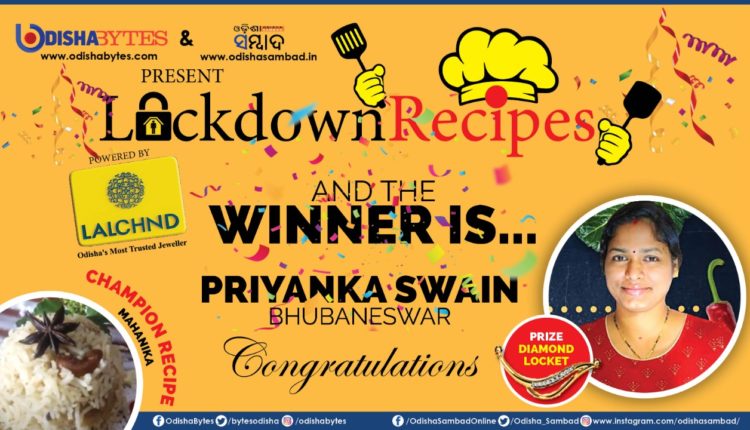 Bhubaneswar: The wait is over. Priyanka Swain has been adjudged winner of Lockdown Recipes, a first-of-its-kind cookery contest organised by Odisha's leading 24×7 news websites www.odishabytes.com and www.odishasambad.in, for her dish 'Mahanika', a combination of Odia delicacies Mahura and Kanika. She will get a diamond locket sponsored by Lalchnd Jewellers, eastern India's leading brand.
A three-member jury, comprising Masterchef finalist Smrutishree Singh; Principal, Institute of Hotel Management, Gurdaspur, Argha Chakravorty; and noted chef Jiten Behera, decided on Priyanka after careful scrutiny of the videos sent by scores of participants.
The initial round involved short-listing of the likely winners, leading to the number of top contenders being brought down to 10 – Ritu Nanda, Jagruti Mohapatra, Srutee Patro, Saba Bano, Kajal Panigrahi, Soumya Sethy, Priyanka Swain, Mansi Rath, Mitali Mishra and Sucharita Das — keeping in mind the contest's criteria of combined views and likes on our YouTube channels, uniqueness of recipe, presentation and quality of video.
As the contest entered the final round, the competition was really stiff considering the variety of dishes that the participants had showcased in their own styles. Ultimately, the marks given by each jury was added and the average helped identify the winner, Priyanka Swain, a homemaker based in Bhubaneswar. She had submitted a video of her cooking 'Mahanika', a vegetarian dish.
The contest, rolled out jointly by www.odishabytes.com and www.odishasambad.in, which are run by Bhubaneswar-based media organisation Frontier Media, in the last week of April in view of the fact that the COVID-19 lockdown had given a large number of people ample family time and many were trying to hone their culinary skills. It was open for all and attracting a large participation from within India and abroad.
As the organisers, we congratulate Priyanka Swain for becoming the winner.
Prize date will be announced later and coupons from KiTchen City will be emailed to all participants in a few days.