Bride On Dharna: Odisha Court Asks Couple To Live In Rented House For A Week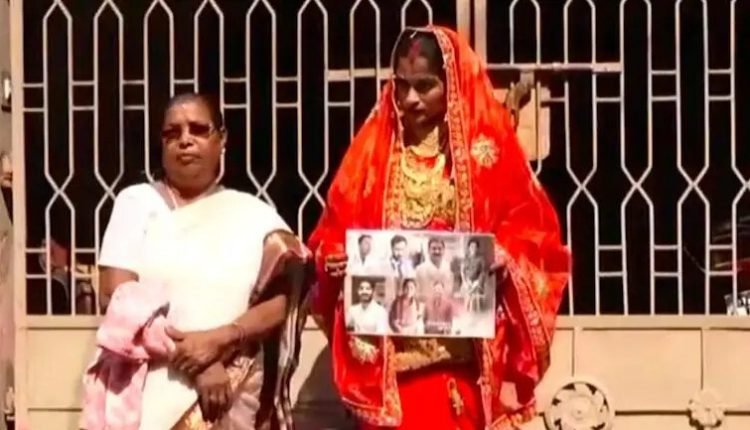 Berhampur: A woman, who has been on a dharna outside her in-laws' house here has been asked to stay with her husband for a week in a rented accommodation.
While conducting a hearing, the Berhampur SDJM Court on Thursday advised Tapaswini Dash alias Dimple and Sumeet Sahu to live together on rent in Aska of Ganjam district. The court also directed them not to meet anyone during their stay in the rented house. The judge also asked Aska Police Station IIC to arrange a place for the couple and provide them security.
The court will conduct the next hearing in the case after the couple completes their stay in the rented house.
Dimple and Sumeet had reportedly tied the knot at a marriage registrar's office. Later, their families decided to solemnise their marriage as per Hindu rituals on November 22. However, on the designated day, Sumeet and his family did not turn up at the wedding venue and did not even respond to phone calls.
Tapaswini and her mother went to her in-laws' house at Brahma Nagar in Silk City and sat on a dharna demanding that she be allowed to live with them as Sumeet's wife.
Earlier, narrating her account, Dimple had said, "We got our marriage registered on September 7 in 2020. My in-laws have been torturing me since day one, they even locked me in a room upstairs once. Earlier, my husband supported me. But as the days passed, my husband sided with his family, following which we lodged a complaint at the Mahila police station. After that, my father-in-law came to my house and asked that we leave all the bitterness behind and conduct a wedding ceremony as per Hindu rituals," India Today reported.
"November 22 was fixed for the wedding. When my husband did not turn up, we were forced to come here to his house," she added.
Dimple's mother was quoted as saying in the report, "He (Sumeet) sexually exploited my daughter for several days and now he has not shown up for the wedding. Is my daughter a product to be used and thrown for this family or what?"
On being informed of the dharna, the police reached the spot. Berhampur Superintendent of Police (SP) Pinak Mishra told India Today that a case related to the same couple had been registered at the Mahila police station in the past as well.
"Notices have already been served to the persons mentioned in the FIR. Later, the groom's family also filed a complaint against the bride's family and a chargesheet was filed in court over the same," SP Pinak Mishra said.
Three days after the dharna, Sumeet's father, Pramod Sahu had told the media, that his son had indeed married Dimple in court but a few months after the marriage, he wanted a divorce and had already filed the papers in the court for the purpose.
Pramod also claimed that they had never given any assurance for a traditional marriage to Dimple's family at any time. His family had also not made any arrangement for the marriage, he added.
Also read: Deserted At Mandap, Bride Stages Dharna In Front Of Groom's House In Odisha's Berhampur