Forest Officials, Stakeholders Gear Up For Mass Nesting of Olive Ridleys in Odisha's Rushikulya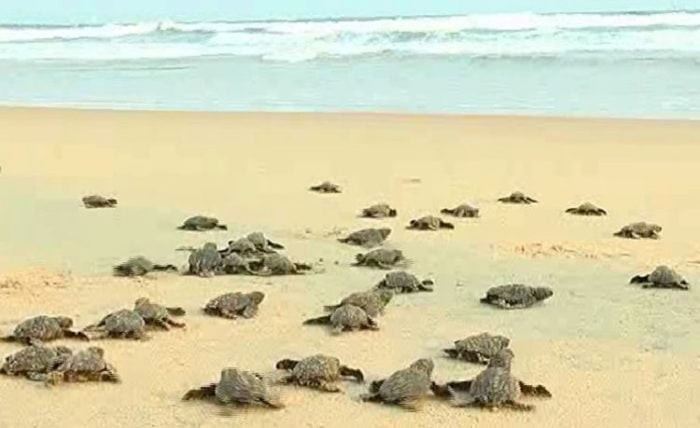 Berhampur: Berhampur Forest Division and the stake holders have geared up for management of congregation and mass nesting of Olive Ridley sea turtles in Rushikulya rookery.
In a circle level meeting here presided by Ashok Kumar Behera ACF Berhampur on Wednesday, the stakeholders expressed their willingness to support the Forest department.
It was revealed at the meeting that 3,23,062 Olive Ridleys laid their eggs during the mass nesting last year that started from March 21 to 28. A record number of 4.82 lakh Olive Ridley turtles came to Rushikulya for mass nesting in two phases during 2017-18.
Olive Ridley sea turtles are choosing Rushikulya river mouth for mass nesting since long and their number is increasing, said Ashok Kumar Behera ACF Berhampur.
Proposing monitoring camps, the Forest officials said sea patrolling should be done with the help of Marine Fisheries, Marine Police. Besides, awareness camps should be organised in villages adjoining mass nesting areas to prevent the local fishermen from using ring net and mechanized boat for fishing during November to May in no fishing zone area.
It was decided that the hexagonal net along the shore in a stretch of 5 km from Gokharkuda to Bateswar will be fixed with CCTV surveillance.
Rabindranath Sahu, secretary of Rushikulya Sea Turtle Protection Committee (RSTPC) suggested that Andhra Pradesh government should be informed about the fishing restrictions to prevent the movement of its fishing trawlers in Ganjam coast. Most Andhra trawlers use gill nets and many turtles die for it, he added.
Siddhartha Shankar Sahu Range Officer Khallikote also spoke.