Bargarh: Banshidhara Naik of Baigapali village in Bargarh district is no ordinary farmer. The 29-year-old youth is also an Arts graduate from a local college and balanced his studies and farming to increase production at the family's fields.
Banshidhara's father owns 15 acres of farmland. "Though I had interest in studies, farming dragged me to the land. After Class X, I joined my father and brother in paddy farming. Later, I added seasonal vegetables such as chilly, brinjal, mustard seed, potato and tomato in our fields," he said.
"Now we cultivate paddy on 12 acres of land and plant seasonal vegetable on three acres," he added.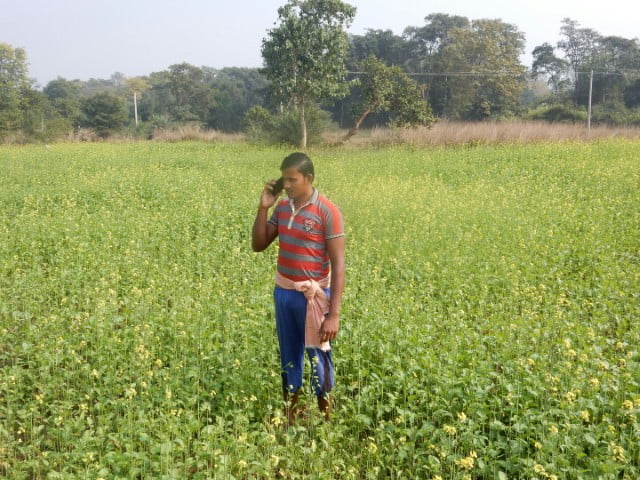 Trouble started two years ago when insects damaged the vegetables in his farm. "I was tense over how to tackle the situation. I approached the agriculture office several times for suggestion. But it was difficult to meet any agricultural officer there. I also did not get any proper suggestion from the staff there," Banshidhara recounted.
And then luck finally smiled. "I came to know about Reliance Foundation from the newspaper. I got a toll-free number 1800-419-8800. I called the number and spoke about the insect problem in my field. An agricultural scientist explained to me all the solutions to my problem. I used the insect killer prescribed by him in my paddy field. Then I got around Rs 50,000 profit out of my chilly cultivation," said Banshidhar.
"Likewise, I got around Rs 25,000 profit from brinjal cultivation that year," he added.
As for the profits he earned, Banshidhara invested them in paddy cultivation.
"I also attended a plant diagnostic camp organised by Reliance Foundation. Many other farmers of Baigapali also attended it. Agricultural scientist Nrusinga Charan Barik was present at the camp and he answered all our queries," he said.
"Now I can get relevant information at the right time through a help-line number, newspaper and also via WhatsApp," he added.
However, there is still one problem plaguing this enterprising farmer. "We do not have canal facility for our farmland till now and therefore have to depend on rainwater only," he shared.
As to his plans, Banshidhara said, "I will do my post-graduation in Arts. But my aim is to be a successful farmer. I do not want to do a nine-to-five job and get fixed salary at the month end. Rather, I will take risk in farming and excel in cultivation," said Banshidhara.