Heavy Rain Floods Balasore Town; Water Enters Shops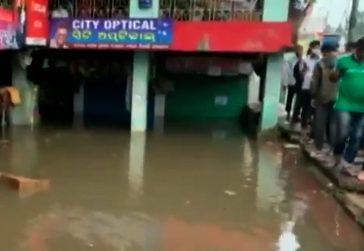 Balasore: Vehicles The New Market area in Balasore town got waterlogged after heavy rain lashed the area on Wednesday afternoon.
Due to heavy showers, the rainwater entered several shops in the New Market area. The shop owners had a tough time retrieving the goods with knee-deep water flooding their stores. Such was the intensity of the rain that the water swept away several items from the shops.

District collector K Sudarshan Chakravarthy visited the New Market  area and interacted with the traders.
Expressing resentment, the traders said though they had requested the Municipal authorities a number of times to clear the clogged drain along the road, any steps are yet to be taken in this regard.
The Collector assured them to take up cleaning of the drain within 24 hours.
Meanwhile, the Municipal authorities have begun evacuating the stagnant rainwater through high-pressure pump sets.