Audio Meet & WhatsApp Camp Help Odisha Farmer To Save Crops From Pest Attack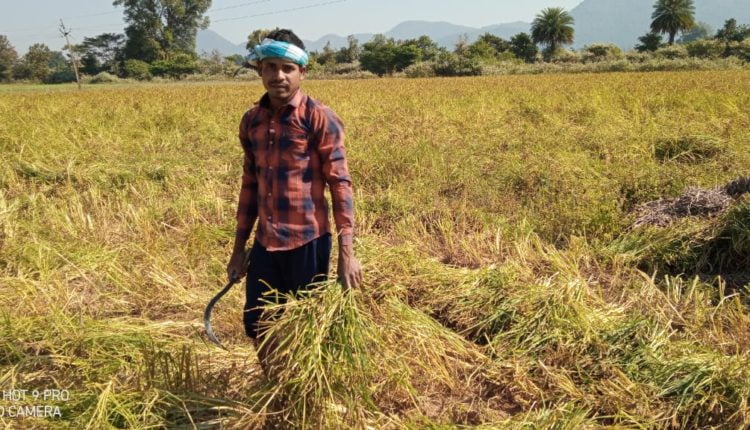 Ganjam: While many farmers in Odisha were worried due to pest attacks on their standing paddy crops, Prasanta Pradhan, a 28-year-old farmer from Gochha gram panchayat under Surada Block in Ganjam District, continued to harvest as his crop was free from the brown plant-hopper (BPH) disease.
Due to COVID-19, many farmers faced difficulty in connecting to authorities at the Krishi Vigyan Kendra (KVK), Agriculture office for remedies about plant protection measures and agricultural operation.
To help the distressed farmers during this crisis, Reliance Foundation has come up with an innovative 'Multi-Location Audio Conference' programme and WhatsApp-based virtual camp. It enables farmers, inland fish farmers and livestock owners to connect with officials and scientists at Line departments and KVKs from their homes to seek assistance.
Prasanta depends mainly on paddy, ragi and vegetable farming. He grows paddy, black gram, finger millet, brinjal and tomato, etc on his farm. 
"My father was doing all the agriculture activity to meet our family needs. After my graduation from Berhampur University, it became difficult to pursue higher study with my father's limited earnings. I have four sisters and one brother. I had to arrange money for their marriage," said Prasanta. 
"Our 4 acres of paddy crop were severely affected by BPH for the last two years. BPH causes damage to rice plants by sucking cell sap from their leaves, which then turn yellow." 
"During June 2020, I came to know about Reliance Foundation's multi-location audio conference and WhatsApp-based virtual camp on paddy crop from a friend. I registered with Reliance Foundation and participated in several virtual sessions right from varietal selection, weed management, nutrient management to pest and disease management programme in paddy farming. During the programme, I shared my paddy crop problems, BPH attack, and the resultant financial loss with scientists from KVK, Ganjam-I, Bhanjanagar. They told me about the reasons behind BPH attack and preventive measures to protect paddy crop," he added.
"I followed the steps recommended by scientists such as balanced fertiliser, reducing the use of nitrogenous fertiliser, and increased use of potash and line transplanting (skipping one line of transplanting after every 10 rows), irrigating the land with the alternative dry and wet method. Apart from these practices, I also used neem based pesticide and created allies at every one-meter distance in the paddy field," said Prasanta.
As a result, he didn't need any agrochemical spray this year and saved nearly Rs. 5000 as input cost towards saving the purchase of agro pesticides. He has saved around 18-20 quintals of paddy compared to last year by taking timely crop protection measures and also got more yield with bold grains (reducing chaffy grain) due to the proper use of paddy cultivation technology.
Based on the success in the cultivation of paddy crop, he regularly seeks advice from Reliance Foundation for the cultivation of finger millet and pest and disease management of brinjal and tomato.
Prasanta now plans to build his skills in the area of nursery development and mushroom cultivation, which can provide additional income to his family.