Kharasrota Drinking Water Project: Odisha Environmentalist 'Forcibly' Admitted To SCB, Takes Shelter Under Tree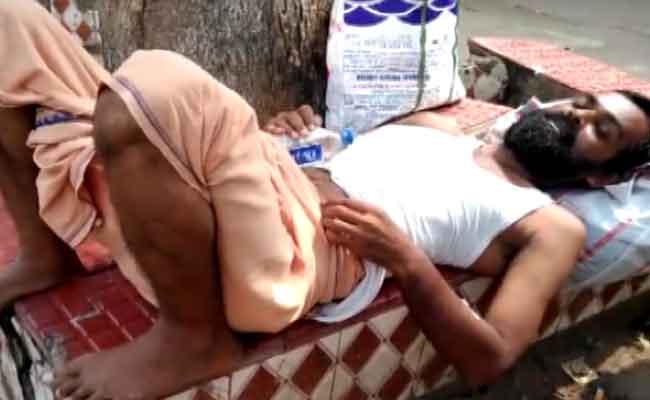 Cuttack: Environmentalist Srikant Nayak, who has been protesting against the ongoing mega drinking water project over Kharasrota river, has accused the Kendrapada administration of forcibly shifting him to SCB Medical College and Hospital in Cuttack from the district headquarters hospital late on Wednesday.
Speaking to the media at the SCB on Thursday, Nayak, a member of the Bhitarkanika Eco-sensitive Zone Committee, said, "A team of Kendrapada police arrived at the district headquarters hospital with a referral paper around 11 pm and told me that I would be shifted to the SCB tonight for better treatment. I asked them how I can be referred to SCB in the absence of the doctors who have not told me the nature of my illness? I also asked the police how can they take me to the SCB without the knowledge of my family members? But they did not pay heed to my requests and picked me from the bed (no-107) in the Medicine Ward took me to Cuttack in an ambulance."
After arriving at the SCB, he was admitted to the Casualty Ward for the COVID-19 test.
"After the test, police took me to the Medicine Ward. The ward was overcrowded and some patients were lying on the floor due to the non-availability of beds. Although the police tried their best to find a bed for me, the hospital authorities told me that they will vacate one for me after an hour. After witnessing the pitiable condition of the ward, I decided to stay under a tree outside the ward," Nayak added.
He said that he was referred to SCB in a hurry despite having no major health complications
"The Kendrapada collector, chairman of Bhitarkanika Eco-sensitive Zone Monitoring Committee and DFO of Rajnagar Wildlife Division, member-secretary of the Committee have submitted a fake Environmental and Social Impact Assessment (ESIA) report in consultation with the IIT-Hyderabad for the approval of the drinking water project by tampering the resolution of the Bhitarkanika Eco-sensitive Zone," he further alleged.
To substantiate his claim, he referred to the sudden transfer of the Kendrapada collector Samarth Verma. Nayak further said that the district administration has been deliberately harassing people opposing this project.
The protest will be intensified further, he warned.
Also Read: Kharasrota Drinking Water Project: Congress Seeks Action Against Odisha Govt For Fake ESIA Report