'My Aim Is To Make Odisha Free Of Child Marriages', Declares Woman Crusader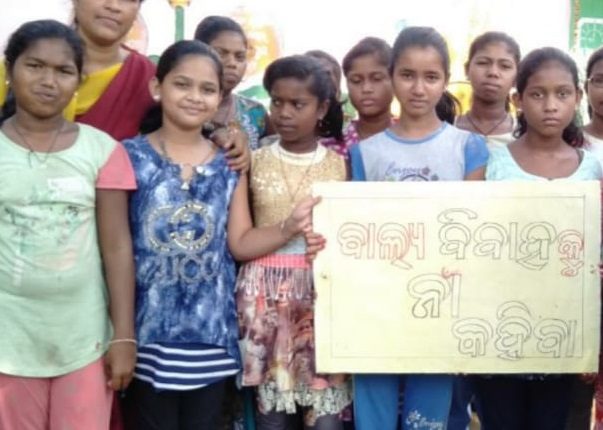 Sonepur: Geetanjali Rana, an Anganwadi worker in Sonepur district, just can't tolerate to see a girl getting married before the legal age.
Whenever Geetanjali gets information about a child marriage in her village of Rugudipali and neigbouring areas, she rushes to the spot to stop the injustice meted out to minors.
The crusader tries to convince the girl's parents to call off the marriage. Sometimes, she even takes the help of police or administration to stop such incidents.
"My aim is that everyone should say 'No To Child Marriage'," she declared.
Geetanjali had participated in a workshop on child marriage in Bhubaneswar in 2017. She was inspired by social worker Ghashiram Panda at the workshop. After returning from Bhubaneswar, she started a mission to stop child marriages.
Every Saturday, she arranges meetings with women of her village. She explains the negative impacts of child marriages at the meeting. She discusses the mindsets of girls before the marriageable age. "A girl is not physically and mentally fit to get married before 18 years," said Geetanjali.
"People should change their mentality with the changing time," she added.
Geetanjali also discusses these issues with the male members of families.
She also encourages the girls in the village to fulfil their dreams.
"It is not easy to change the mindset of the people in our society. They have insulted me many times on the road. People have also threatened to attack me. But, no one can stop my work," said Geetanjali.
Some areas near her village have become free of child marriages. Geetanjali now also goes to other villages for counselling. Police have also helped her several times.
Undaunted by the obstructions in her crusade, Geetanjali has been able to stop 10 to 12 child marriages in her locality till now.
"My aim is to make Odisha a child marriage free state. I want to create more woman like me, so that they can convince the parents of girls to stop child marriage," said Geetanjali.
Notably, on January 6 2020, Rugudipalli was declared 'child-marriage free'. It could be possible for the efforts of NGOs, administration and Geetanjali, said the report.
According to reports, a total 114 villages in Odisha have been declared child-marriage free as of January 7, 2021.
The Women and Child Development and Mission Shakti Department have aimed to end child marriage and make Odisha child-marriage free by 2030.