New WhatsApp Chat Between Gosavi & Sail Surfaces; NCB Opposes Aryan Khan's Bail Plea On These Grounds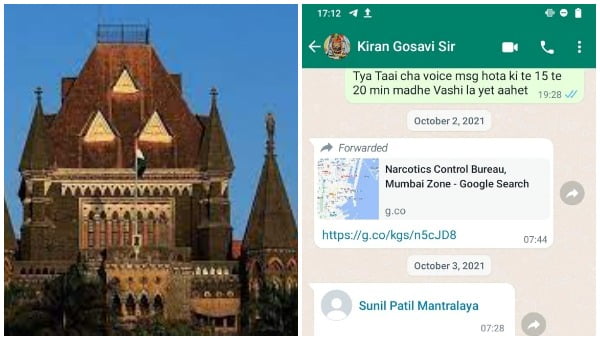 Mumbai: Even as Bombay High Court is hearing the bail plea of Aryan Khan in the Mumbai drugs bust case, a screenshot of a WhatsApp chat between independent witnesses of NCB, KP Gosavi and Prabhakar Sail has gone viral.
Gosavi, who had hogged the spotlight after a selfie of his with Aryan went viral, is under the radar after Sail, who is reportedly his bodyguard and driver, levelled allegations of extortion against him.
The chat, India Today reported, showed Gosavi giving instructions to witness Sail. Check here:
Meanwhile, opposing the bail plea, the NCB told the court on Tuesday that the son of Bollywood actor Shahrukh Khan is an influential person and may tamper with witnesses and evidence by citing Sail's affidavit, besides his international linkages.
"Such a document has not been filed in any proceeding before any court despite the fact that the matter is sub-judice before Bombay High Court and Sessions Court. Curiously, the same has been clandestinely distributed and widely publicised in the media," the NCB submitted in its reply.
Also Read: Lucknow Witnesses Midnight Drama Over Kiran Gosavi's 'Surrender'
In his affidavit, Sail had accused NCB Zonal Director Sameer Wankhede of extortion.
Aryan and Arbaaz Merchant had been in close collaboration with each other which is sufficient to attract offences under Section 29 of Narcotic Drugs and Psychotropic Substances Act (NDPS Act) which deals with conspiracy, it added.
Aryan is being represented by a battery of lawyers, including former Attorney General of India Mukul Rohatgi team Karanjawala & Co.
Also Read: Mukul Rohatgi To Represent Aryan Khan In His Bail Hearing Today