Odisha DGP Seeks Puri Residents Cooperation For Successful Rath Yatra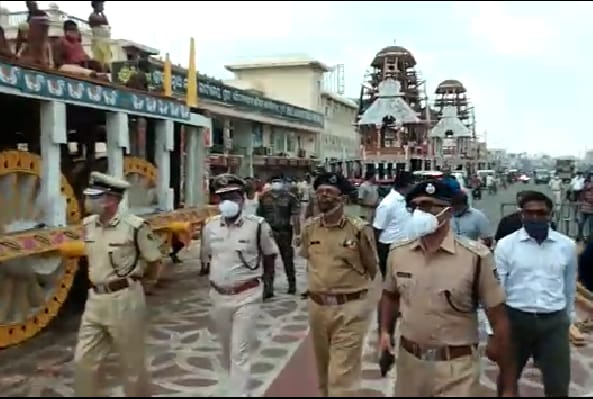 Puri: The Odisha DGP Abhay on Sunday expressed hope that residents of Puri will cooperate with the state government and follow the guidelines issued for the conduct of annual Rath Yatra.
Addressing mediapersons during his visit to Puri to survey the security measures ahead of the annual Car Festival in the town, the DGP said, "the people of Puri had shown their unconditional support last year and a sure they will do so this time too."
Informing about the security arrangement, the DGP said Puri SP K Vishal Singh has prepared a blueprint and the same would be finalised in the next few days.
The DGP toured the Ratha Khala, the temple periphery and was informed about the measures.
As per the preliminary information , 70 to 80 platoon police force will be deployed for the festival. This apart, the town will be divided into 12 zones while the Grand Road or Bada Danda will be segregated into 4 zones for better and effective security management.
At earlier meetings it was decided to imposed curfew Puri for 48 hours, from the night before Rath Yatra till the morning after the festival, and roof-top viewing by public has been banned.
The three entry points to the town will also be sealed to check people from coming into the town during this time. It was decided that like last year, only sevayats will pull the chariots and no police or official will be added.
The DGP was accompanied by ADGs RK Sharma, Lalit Das; IGP Narasingha Bhol; DIG Anup Sahoo and Puri SP Vishal Singh.