Odisha Govt Has Paid Over Rs 56 Crore To People On Completion Of Institutional Quarantine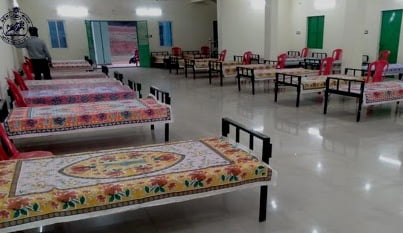 Bhubaneswar: The state government has paid more than Rs 56 crore to the people who have successfully completed institutional quarantine so far.
Speaking to mediapersons on the steps taken by the government for prevention of COVID-19, Covid Observer of Cuttack district Dr Sourabh Garg and Commissioner, Cuttack Municipal Corporation Ananya Das said on the direction of Chief Minister Naveen Patnaik, Rs 56,51,94,000 has been paid to the people who have completed the quarantine period from the Chief Minister's Relief Fund.
The Chief Minister had announced that an incentive of Rs 2,000 would be paid to each person who undergoes the institutional qurantine.
Highlighting the measures taken by Cuttack Municipal Corporation (CMC) to contain COVID-19, Dr Garg and Das said Ward Committees have been formed with ward officers, representatives of Sahi Puja Committee and Senior Citizens for smooth and effective monitoring of the pandemic.
The committees impress upon the residents to follow best practices and inform the administration about the cases and new arrivals. Similarly, 5,703 Ward Committees have been constituted at gram panchayat level in rural areas.
Besides, it is ensured that the people coming to their wards are registered and
CMC and COVID control room are informed.
Both the officers said Health Workers/ASHA/Anganwadi workers visit the home quarantine cases. In case of any problem or if home quarantine is denied, the Rapid
Response Team of control room facilitates them to be in institutional
quarantine or paid quarantine, they added.
They further said out of 5,101 migrants who have returned to Cuttack Municipal Corporation area, 3,892 persons have undergone home quarantine, 949 institutional quarantine and 260 paid quarantine.
As many as 3,180 people have been accommodated in Temporary Medical Centres (TMCs) in Cuttack city, while 1836 people are undergoing Home Quarantine in rural Cuttack till June 26.