Odisha Lists Key Strategies For COVID Vaccination Of Pregnant Women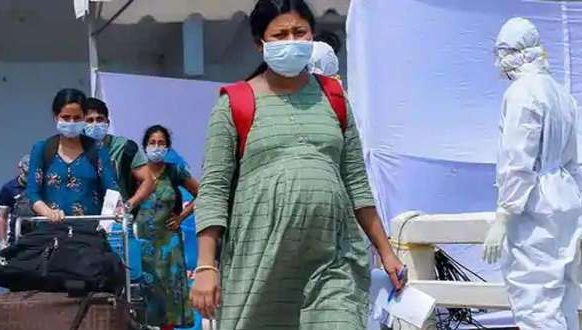 Bhubaneswar: With an aim to ensure smooth implementation of COVID-19 vaccination for pregnant women, which is scheduled to kick-off in Odisha after July 15, the government has charted a list to be followed by health care workers.
It has also directed that the cascade training of all stakeholders should be completed within the timeline to start the vaccination of pregnant women.
The Health and Family Welfare Department has in a letter, asked the collectors to personally monitor the activity for the success of the vaccination programme.
The key strategies to be followed as per the additional guidance are as follows:
Cascade training of healthcare personnel
– The training of all Programme Officers / Managers, Doctors on guidance note at district & block level shall be completed within 10th July, 2021 through virtual mode. The private Hospital Doctors and managers shall also be included as participants.
– Orientation of local professional bodies such as FOGSI, IMA, IAP, NNF and other state specific professional bodies etc. shall be conducted immediately.
– Training of Staff nurses, LHV, ANM, Vaccinators & verifiers and other field functionaries shall be completed by 12th July at PHC /CHC level in small batches following Covid appropriate behaviour.
– Similarly, ASHAs / AWWs shall be orientated at sector level by 15th July 2021
Mobilisation and vaccination of pregnant women: 
– The line list of pregnant women shall be prepared sector wise for mobilization to the nearby CVC on a particular day of session
– ANM shall be responsible for counseling of Pregnant women regarding COVID-19 vaccination in VHND/UHND day or any other platform
– ASHA shall mobilize the pregnant women on schedule date & time.
– MO  I/C of CHC shall fix a day for vaccination of pregnant women in different location in the block i.e. CHC / PHC so that pregnant women need not travel long distance for vaccination.
– At the session site, separate arrangement shall be made for waiting & observation of pregnant women and they should not be allowed to stand in queue for vaccination.
– After vaccination, pregnant women shall be observed for 30 minutes for AEFI (if any). Timely reporting shall be ensured of each AEFI case, as per guidelines. District AEFI Committee members shall be oriented immediately on vaccination of pregnant women. O & G Specialist and Paediatric Specialist shall be the members of district AEFI Committee.
– There should be provision for drinking water and toilet facility at the vaccination site.
Recording and Reporting: 
– The 1st and 2nd dose vaccination shall be documented in MCP card of pregnant women.
– The name wise & date wise detailed report of pregnant women vaccination should be compiled at block level and submitted to district by 6 pm every day.
– District should submit the block wise report to state everyday by 7 pm positively.
– District task force meeting shall be convened to review the cascade training and achievement at a regular interval