Bhubaneswar: Painter Sudarshan Shaw has been winning the hearts of the wildlife lovers with his painting series with motifs of nature and animals.
Known for illustrating wildlife stories from different states in his paintings, Sudarshan's current series, 'My Picture of Divinity', focuses on wildlife of Odisha and that of other states.
"I want to showcase the relationship between one species to another through my paintings. One can get the direct interpretation, beauty and colour of nature in my paintings. I connect them with divinity," the painter shared.
"My first work under this series was 'Tiger and Forest'. In it I showcased the mating of tigers. After the mating, a new forest was created as a new tiger cub will save the forest. Its birth is like the birth of an eco-system," he added.
"In another painting, I showcased the relationship between woodpeckers and trees. The woodpeckers peck holes in the trees. I explained the reason of it in my painting. Woodpeckers are known as forest doctors. These birds make the holes in some part of the trees and eat harmful insects. This way they save the trees from poisonous insects," he explained.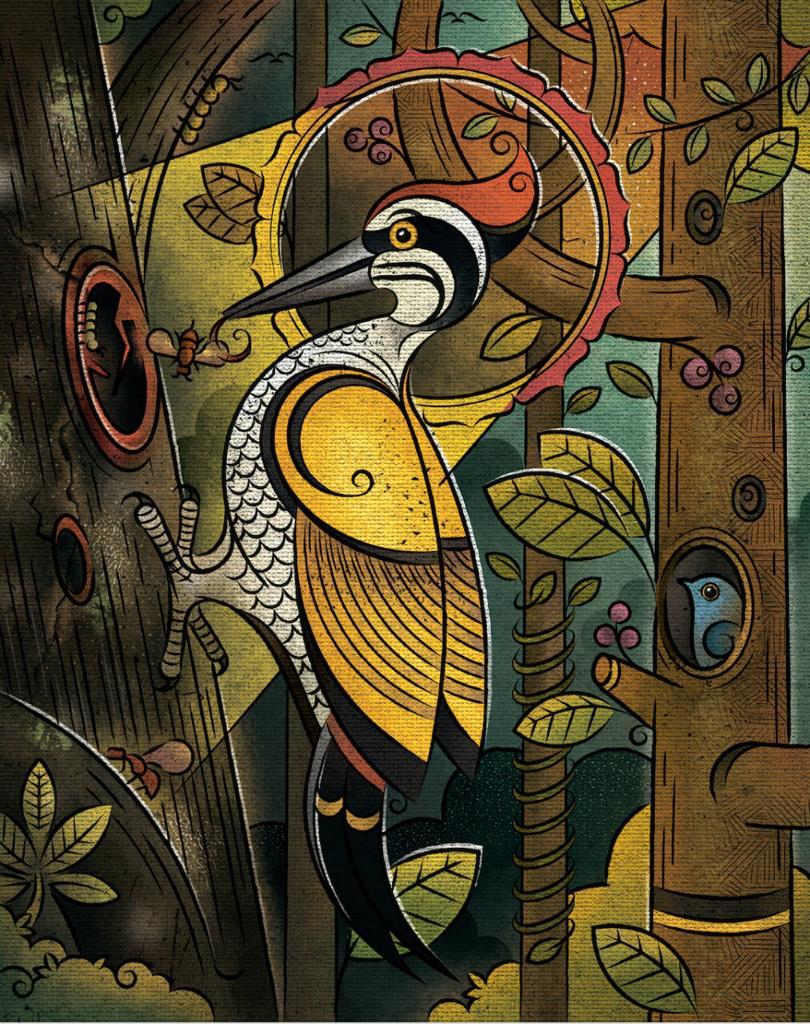 Another painting in the series is titled 'Turtle and Sea'. "I have showcased the relation between olive turtle and land and sea. I was inspired to do this painting from Gahiramatha in Odisha. Turtles come from sea to land for nesting," Sudarshan said.
In the series of 'My Picture of Divinity,' he has already made nine paintings.
"I will do three more paintings under this series. Due to COVID pandemic, I couldn't go out for some observations in the forest areas. I had started working on this series during the first phase of the pandemic," Sudarshan said.
"I have been making paintings since my childhood. But my technical skills improved after I completed my graduation course from NIFT, Delhi," said the 27-year-old artist.
"I fell in love with wildlife paintings after being successful in my graduation project. I had received the first prize in the project after showcasing the relationship between tribal people and wildlife," he added.
"Simultaneously, I am working on another series, 'Folk Indica'. I am doing paintings of the animals and birds through the folk art of nine states. I have started with tigers. When we see a group of tigers, we cannot differentiate them individually. Using the diverse folk art of India, I am making the tigers' painting with nine states' regional art and craft, like, Uttarakhand's Aipan art, Odisha's Pattachitra, Bengal's Kalighat, Arunachal Pradesh's Pankh art and Andhra Pradesh's Kalamkari, and Maharashtra's Warli art, etc."
Under the series 'Folk Indica', he will make paintings of elephants next.
"I used to travel more for research. Then I do paintings. I love to experiment with the paintings. I used to do mud painting using different natural colours," the artist said.
Though Sudarshan belongs to Bhubaneswar, he stays in New Delhi most of the time.
Earlier, Sudarshan was in news after making a Pattachitra-style wildlife map of Odisha, featuring the various forms of fauna found in the state, with their different biodiversity zones in the background.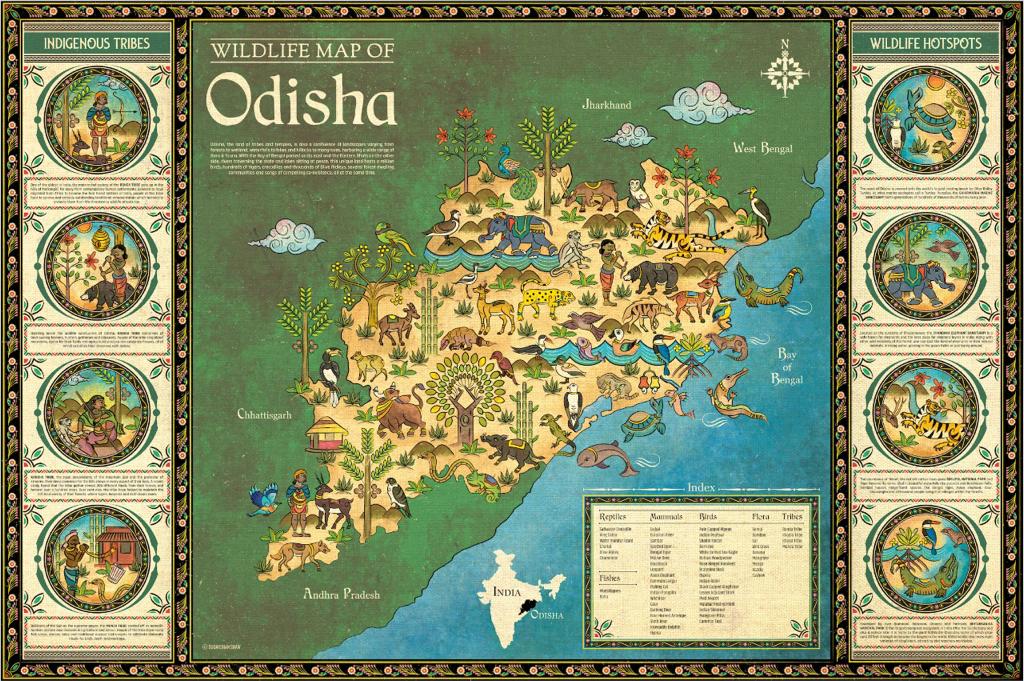 "My aim is to showcase wildlife, art and culture of Odisha in the whole world through my paintings," he concluded.