Odisha Society Of Americas & Actor Sabyasachi Donate COVID Testing, Vaccination Van To Health Dept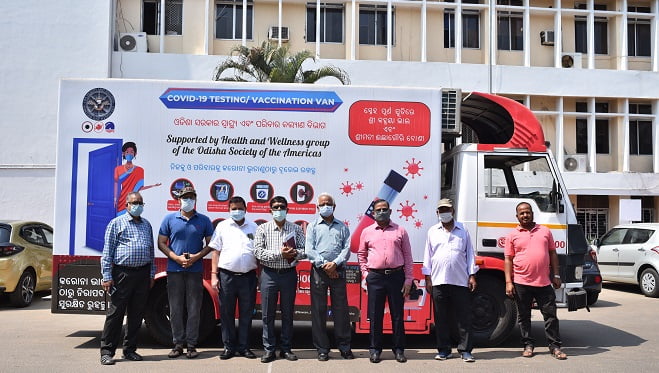 Bhubaneswar: A COVID testing-cum-vaccination van was donated by the Health & Wellness Group of The Odisha Society of The Americas (OSA-HWG) to the Health Department here on Friday.
Dr Nitin Doshi and his wife Dr Chandini Doshi donated the van on behalf of the OSA-HWG.
Goodwill ambassador of OSA-HWG and actor Sabyasachi Mishra handed, Dr Niranjan Mishra (Director, Public Health), Dr Salil Mohanty and Surya Narayan Das were also present.
Sabyasachi said "The van is equipped with advanced facilities and assembled at New Delhi to be used as a Mobile Covid Testing cum vaccination booth. Earlier, the group has sent two vans which are already in use in different districts of Odisha."
Dr Nitin Doshi (Member-Advisor of OSA-HWG) said "It was always our wish to help and promote education and healthcare-based project across Odisha and that came true with this project."
Dr Devashish Ray (Chairman OSA-HWG) said, "OSA-HWG is planning & executing many activities in association with Sabyasachi and Smile Please Team to help Odisha during COVID crisis."
Sitikanta Dash (senior patron of OSA) said "Our team is taking all steps to bridge the gaps & we will try our best in all possible ways to help odisha overcome the pandemic."
Doshis donated the van in memory of their parents Kanaiyalal and Ichhagouri Doshi.