Parag Aggarwal Of Twitter Joins These Indian-Origin CEOs In Silicon Valley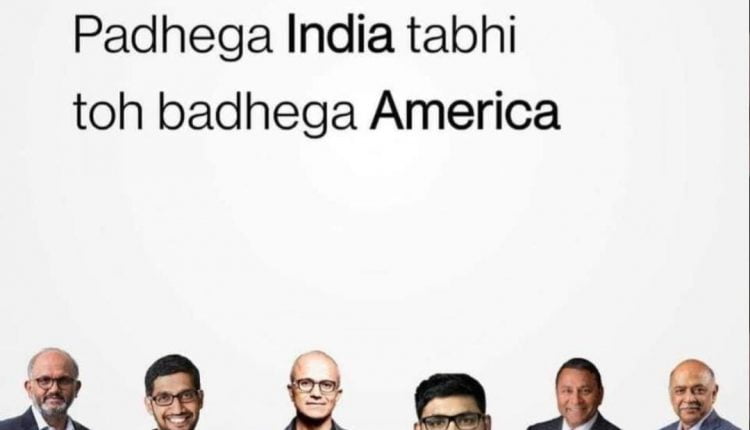 The appointment of Parag Aggarwal as CEO of Twitter is only a reaffirmation of the latest meme 'Padhega India Tabhi Toh Badhega America.' He joins the league of others of Indian origin who have made a mark in the IT industry at the global level, with many of them spearheading global roles in some of the world's biggest companies.
Satya Nadela, Microsoft
He has been the CEO of Microsoft since 2014. He
has been in the company since 1992 and previously held the position of executive vice president of Microsoft's Cloud and Enterprise group. He
was born in Hyderabad, Telangana, and received his bachelor's degree in electrical engineering from the Manipal Institute of Technology in Karnataka, and MS in Computer Science from the University of Wisconsin-Milwaukee. Later, Nadella received an MBA from the University of Chicago's Booth School of Business.
Sundar Pichai
Who doesn't know Sundar Pichai, CEO of Google since 2015. He joined it in 2004 where he led product management and innovation efforts for a suite of Google's client software products, including Google Chrome and Chrome OS. Pichai holds a degree in metallurgical engineering from IIT Kharagpur, and an MS from Stanford University in materials science and engineering and an MBA from the Wharton School of the University of Pennsylvania.
Arvind Krishna
CEO of IBM since April 2020, Arvind Krishna took over as chairman in January 2021. He joined IBM in 1990 and was promoted to senior vice president in 2015, managing IBM Cloud and Cognitive Software and IBM Research divisions. An electrical engineer from IIT Kanpur, he did his PhD in the same subject from the University of Illinois.
Shantanu Narayen
Narayen has been the CEO of Adobe since 2007. He was also COO since 2005. Narayen joined Adobe in 1998 as a senior vice-president of worldwide product development. He has a bachelor's degree in electronics and communication engineering from the University College of Engineering, Osmania University in Hyderabad. He did a master's in computer science from Bowling Green State University in Ohio and later received an MBA from the Haas School of Business, University of California, Berkeley.
Steve Sanghi
Steve Sanghi is the CEO of Microchip Technology Inc. He is also the company's founder and first president. He was named the President of Microchip in August 1990 and has been CEO since 1991. Sanghi has a master's in Electrical and Computer Engineering from the University of Massachusetts Amherst.
George Kurian
Kurian became the CEO and president of data storage company NetApp in 2015. He has studied engineering at IIT Madras, but dropped out to pursue the same course from Princeton University. He has done his MBA from Stanford University.
Anjali Sud
She joined Vimeo CEO as the Head of Global Marketing in 2014 of Vimeo and is now the CEO. Sud is a graduate from the Wharton School of the University of Pennsylvania with a BSc in Finance and Management and did her MBA from Harvard Business School in 2011.
Jayshree Ullal
She has been CEO of Arista Networks since 2008. Earlier, she worked with AMD, Cisco, and Fairchild Semiconductor. Ullal did a BS in electrical engineering from the San Francisco State University and did a master's from the Santa Clara University in engineering management.
Nikesh Arora
Nikesh Arora is the CEO of Palo Alto Networks since 2018. He has also worked in companies like Google and SoftBank. Arora has a bachelor's degree from the Institute of Technology at Banaras Hindu University, and an MBA from Northeastern University, along with an MSc from Boston College.