Puri Heritage Corridor: Union Minister Seeks Gajapati's Help For Funds; BJP MP Opposes Project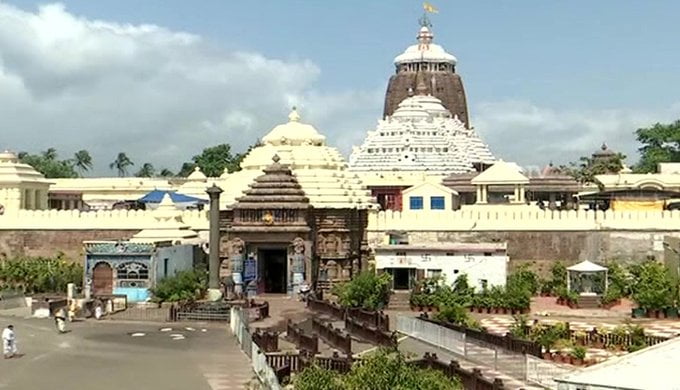 Bhubaneswar: In a new turn to state BJP's stand on development of heritage corridor around Jagannath temple in Puri, senior leader and Union minister Dharmendra Pradhan has appealed to Puri King Gajapati Dibyasingha Deb to help raise funds from the devotees around the world.
In a letter to the Gajapati, who is the chairman of Shree Jagannath Temple Authority (SJTA), the minister has expressed his gratitude on behalf of over 4 crore devotees in Odisha to him for taking forward the development work of the heritage corridor.
The managing committee of the SJTA approved the Shree Jagannatha Heritage Corridor (SJHC) which proposes to redevelop the surroundings of the 12th century shrine on February 15.
The managing committee, chaired by Gajapati Dibyasingha Deb, acquiesced to a proposal to beautify and develop the 75-metre corridor around the temple's boundary walks (Meghanada Pacheri), set up the Shree Jagannath Reception Centre and conserve temples in various mathas in Puri. Most of the mathas are linked with the Jagannath Temple.
Also Read: Heritage Corridor Plan In Odisha's Puri Gets SJTA Approval
Pradhan appealed to Deb to make arrangements for the devotees to contribute according to their capacity as an opportunity in service of the Lords.
Stating that Prime Minister Narendra Modi has very high respect and devotion towards the Jagannath temple, he said the king can act as a coordinator between the Centre and the state in this regard for which Pradhan has offered his support.
The minister assured of the Centre's help in waiving the income tax on the funds from the devotees in the country as well as abroad. Besides, several banks will come forward to extend their help in this regard, he added.
It may be noted that Bhubaneswar MP of BJP Aparajita Sarangi had raised objection to demolition of heritage structures including mutts and several old structures for development of the heritage corridor on February 27 after the SJTA approved the project.
Referring to the provisions of the Ancient Monuments and Archaeological Sites and Remains (AMASR) Act, 1958, she had asked whether the state government had sought the permission of the National Monuments Authority (NMA) and the Archaeological Survey of India (ASI) before undertaking the development work.
Also Read: Puri Heritage Corridor: Aparajita Seeks Clarification On Renovation Of Mutts, Raghunandan Library