Spirit Of Brotherhood Drives Cuttack Youths To Help Distressed People During COVID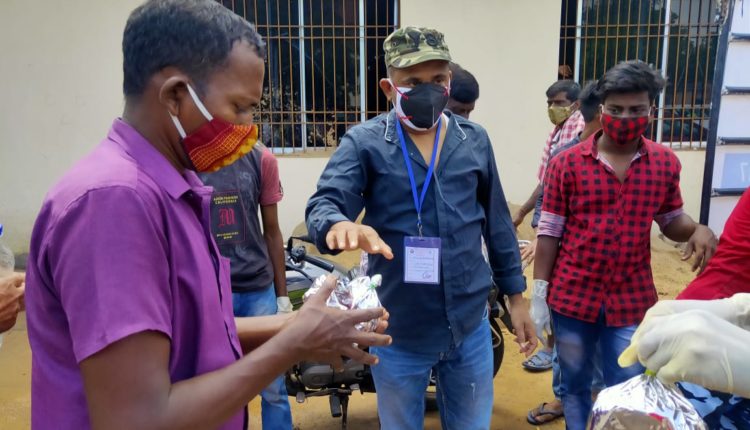 Cuttack: Driven by a sense of brotherhood and humanity, two youth-based organisations in the Millennium City have initiated services to help poor and needy people during the COVID-19 pandemic.
Sukun Foundation
The origin of Sukun Foundation is truly unique. A group of youths who whiled away their time gossiping during the lockdown last year, are now working dedicatedly to help COVID-affected people in Cuttack.
The Foundation members distribute food to poor and needy people during the lockdown and weekend shutdowns during the second wave of the pandemic. They also feed street animals and monkeys.
"We observed the plight of the weaker sections of society during the pandemic. Beggars, pavement dwellers and rickshaw pullers were the worst affected as getting food daily was a big struggle for them. So I and some of my friends thought of giving cooked food to them. Initially, we started doing so on the shutdown days of Saturday and Sunday. But now, we distribute rations on the other days as well," now, we distribute monthly ration," said Pravat Ranjan Behera, the founder of Sukun Foundation.
According to Pravat, the initiative started with a few students, but now nearly 50 people are involved in this social cause.
The boys cook the food, pack and distribute it to the people on the streets.
"We are now planning to distribute cooked food and ration to the doorsteps of families who have contracted COVID-19 and are in home isolation," Pravat added.
"Since temples have been closed for a long time, the priests are also suffering. We will also distribute ration to the priests at all the temples of Cuttack soon," Satyanarayan Rout, another member of Sukun Foundation.
Besides food, the Foundation members also extend help to those in medical need. "We donate blood in hospitals. We also plan to help three patients with kidney problems. We are collecting money among ourselves to do all this," said Pravat, who completed his BCom from a Cuttack-based college recently.
Yuva Odisha Forum
Social service is not new to Yuva Odisha Forum. Even before the pandemic, the Forum helped needy patients and imparted education to children living in slums.
"After the pandemic struck, we started helping migrant labourers in Odisha by giving them cooked food. During the second wave, we are giving cooked food to distressed people in Cuttack," said Soumyadeep Ghosh, who is also the State General Secretary of the BJD Youth wing.
"Besides, we also help in carrying out sanitization in different wards, schools and temples in both Cuttack and Bhubaneswar," he added.
Forum members also create awareness against COVID-19 among slum dwellers and distribute masks to them. "We are also planning to organise a blood donation camp next week," said Soumyadeep.
"Along with some organisations like Humanity Foundation and Biren Mitra Foundation, we distribute cooked food. I am a part of these foundations," he added.