#WeWantPopulationControlLaw Trends On Twitter Again; Know Why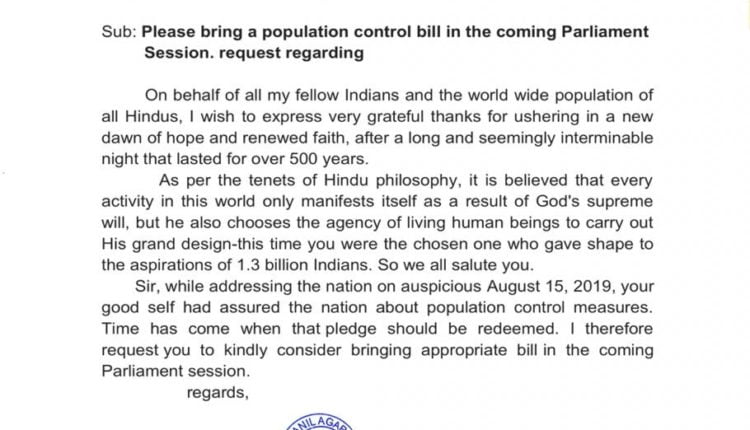 Bhubaneswar: #WeWantPopulationControlLaw is trending on Twitter again. It may be recalled that netizens had demanded a law to control population after President Ram Nath Kovind had touched upon the topic in May 2020.
"भारत जैसे बड़े और घनी आबादी वाले देशों को विशेष रूप से जनसंख्या नियंत्रण के विषय पर सुविचारित कदम उठाने होंगे। अन्यथा हमारे देश में ऐसी आपदाओं के भीषण परिणाम हो सकते हैं।" — राष्ट्रपति कोविन्दhttps://t.co/UUFipQoZem

— President of India (@rashtrapatibhvn) May 2, 2020
Member of the Parliament Anil Agarwal had, on August 7, written a letter to Prime Minister Narendra Modi requesting him to introduce a population control bill in the Parliament session.
"Sir, while addressing the nation on auspicious August 15, 2019, your good self had assured the nation about population control measures," Agarwal had written to Modi.
"Time has come when that pledge should be redeemed. I, therefore, request you to kindly consider bringing an appropriate bill in the coming Parliament session," the letter read.
Soon after the letter went public, netizens again took to social media to reiterate their demand as they feel growing population is the reason behind a lot of India's problems — like unemployment, traffic, depleting resources, and more. Check out some tweets here:
Thanks to 🙏🙏@AnilagrwalMPBJP for writing to PM to bring Population Control Law.
Its very useful For our Country.#WeWantPopulationControlLaw @PMOIndia@narendramodi @RAJSABHA @rajnathsingh @FinMinIndia @PopFoundIndia @DrKumarVishwas pic.twitter.com/cIq5Lll7bV

— बेरोजगार युवाओं की आवाज ✊ (@ALPINRAILWAY) September 21, 2020
They are working hard Day and Night. India need this Law.#WeWantPopulationControlLaw pic.twitter.com/T0sgihirY1

— 🇮🇳 राठौड़ 🇮🇳 (@lokarlorajniti) September 21, 2020
Over population leads to :
Exhaustion of natural resources
Environmental degradation
Rising unemployment
Increased global warming
And much more .

It is a huge environmental crisis that needs to dealt with urgency .

Absolutely yes #WeWantPopulationControlLaw pic.twitter.com/rG2QfcwEHc

— Tan_yeahwhatever (@ShannTanya) September 21, 2020
Population Explosion leads to:
:Poverty
:Unemployment
:Extra demand for food & water
:Burden on Healthcare system

We can't just go on with producing something we can't even feed. There is need for Population Control Law in 🇮🇳#WeWantPopulationControlLawpic.twitter.com/Y8FsYGNNAi

— Gaurav Mishra (@Imkgauravmishra) September 21, 2020
If population comes in control then any other problem in world can be controlled
#WeWantPopulationControlLaw pic.twitter.com/nlE5STz2I6

— Abhishek Singh Tomar (@Tomar__Abhishek) September 21, 2020