When Pranab Mukherjee Rode Pillion On Bike In Odisha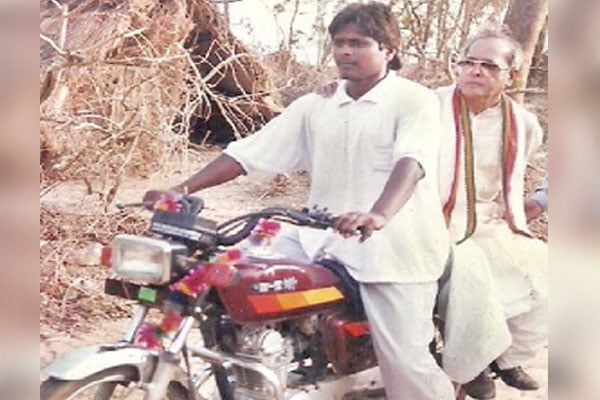 Kendrapada: The demise of former President Pranab Mukherjee that left many of his followers in remorse came as a rude shock to a common man Tarunkanti Kanchilal whose chance meeting with him left a lasting relationship.
Tarunkanti's first meeting with the veteran politician was in 1999 when the Super Cyclone had devastated Odisha. As an MP, Mukherjee had visited Kendrapada, one of the worst affected areas of the state, to take stock of the situation. As the roads were dotted with fallen trees, he could not travel in a four-wheeler inside the district.
Tarunkanti, who belongs to Ramnagar under Mahakalpada block, had taken the former President on rounds on his motorcycle. Riding as a pillion on Tarunkanti's bike, Mukherjee visited Ramnagar, Kharinasi, Petachhela and other affected areas in the district.
The next meeting between the two took place in Raj Bhavan in Bhubaneswar when Mukherjee visited Odisha as the President in 2013. As per Mukherjee's wish, Tarunkanti was invited to the Raj Bhavan. He met the then President and offered some coconuts as a token of love.
Subsequently in 2014 and 2015 also, Tarunkanti had met Pranab Mukherjee in the Rashtrapati Bhavan in New Delhi. Mukherjee had immense affection and respect for him, Tarunkanti said.