Young Odia Innovator Develops App To Facilitate Automo-Cooking Experience For Visually Impaired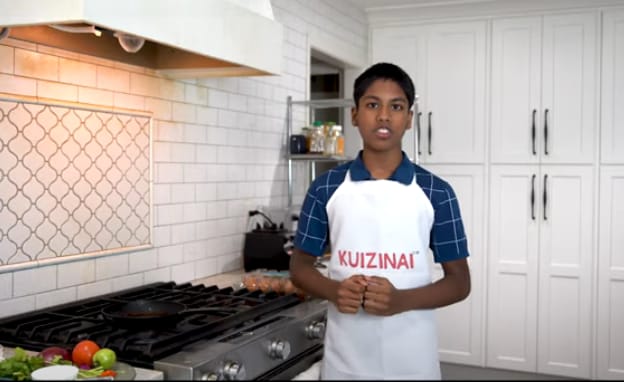 Bhubaneswar: The bond between grandparents and grandchildren is magical. The seniors are role models as well as influencers in a child's life. Modern gadgets have cut down the distances and we can hear and feel their happiness as well as troubles online too.
Samarth Mahapatra, an Odia kid based in USA too had one such influence which led him to develop an application 'Kuizinai' to facilitate automo-cooking experience for the visually impaired. His grandmother and grand-aunt, both of whom have glaucoma induced blindness and visual impairment, have been his push factor for the 'Improving Lives Challenge' project.
Samarth has deployed edge computing and advance vision algorithms to help people with vision impairments cook with ease.
Talking about his innovation Samarth says "My bada aaima and my aaima (maternal grandma) have struggled with glaucoma induced blindness and visual impairment. I wanted to make a difference to help them live a life with independence and inclusion."
Samarth, who lives in Marietta in Georgia since 2006, says "it is actually not just an app. It is an integrated solution with a device and an app. I deployed edge computing and advanced algorithms to help people with visual impairment cook with ease. This device can also help others such as new cooks, busy parents and multitasking professionals."
This accessibility-friendly guidance system is created to assist people with visual impairment and blindness. It can also benefit others, including seniors, he adds.
"I have deployed an AI-based computing, advanced vision algorithms, and a mobile app to create a device that would help people with vision impairments try new recipes, cook with safety and preventing overboiling, spill over or burning of food. The system would learn individual choices and give timely instruction for cooking actions," says the Class 9 student.
Through the project, which he developed under 'Improving Lives Challenge', he aspires to bring a change in the lives of the  visually impaired as well as other categories mentioned by him.
Samarth is one of 10 finalists of the 2021 3M Young Scientist Challenge, organised by 3M and Discovery Education, Georgia.
The competition recognizes middle school students, who use scientific thinking to create an innovation that will improve lives both in their local communities, and globally.
Samarth has also created mobile and web apps and a device to detect chair tilting to prevent people falling from chair, he says without any pride.
His hunger for innovations and desire to help the society does not end here. Samarth says, "Whether I win or not, I plan on continuing to work on this solution to make it more accurate and add more features. There are other projects that I want to start as well."
AI and programming opens many doors. It's super fun, says Samarth  a native of Bhubaneswar.
His favourite pass time is watching tech videos and cooking shows or videos besides playing the violin and fencing.
His parents Sarita Mohanty and Spandan Mahapatra too have been very supportive he says. "They have nurtured my interest in data science and I hope to be a computational biologist/data scientist in the field of bio sciences," the young man adds.
The projects submitted by the students will be judged through votes from across the globe. Click on the link to vote for the Odisha boy. https://www.youngscientistlab.com/competition/improving_lives/vote 
A win here will open the doors for 'America's Top Young Scientist' competition for him.